You are here : Technical Info
China Diesel Generator, Power Generator, Marine Generator
Slient-type Genset

Features
● The RISE Power™ soundproof canopy is composed of galvanized plates (optional) and galvanized steel parts that have gone through a powder coating process for rust and scratch resistant treatment. This guarantees a longer service life.
● The new design of the soundproof canopy can reduce the noise to 15-35 dB, so our silent generator sets are suitable for work at night and for residential areas, commercial areas and other areas with high requirements for noise levels.
● Lower emissions and less environmental influence
●The inner wall of the canopy uses a flame resistant, soundproof foam, while the door is surrounded by the sealant for automobiles. Therefore, the noise and heat can be both reduced and absorbed.
● External fuel and water charging ports and integrated drain outlet
●Notice safety tags are posted both in inside and outside of the canopy to provide safety tips and ease of operation.
● Large access doors on both sides for convenient routine maintenance.
Reliable world-class engine
Advanced brushless motor
Automatic self-diagnostic system
Compact design
Convenient cable connection
Forklift hole
External fuel charging port
External water charging port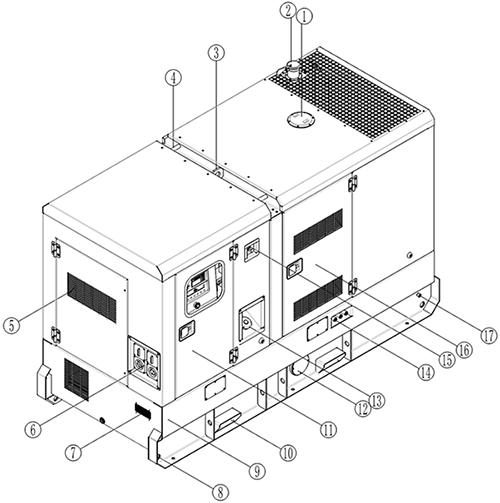 | | | |
| --- | --- | --- |
| ① Coolant feeding port | ② Exhaust port | ③ Lifting eyet |
| ④ Lifting eye | ⑤ Air inlet | ⑥ Port for fast connection (optional) |
| ⑦ Port for cable | ⑧ Pulling eye | ⑨ Chassis |
| ⑩ Forklift hole (optional) | ⑪ Switchgear | ⑫ Drain valve |
| ⑬ Fuel charging port | ⑭ External fuel charging port/ water drain valve/ engine oil drain valve | ⑮ Emergency stop button |
| ⑯ Access door | ⑰ Grounding port | |