Yanmar Generator Set
Powered by Yanmar diesel engine, the Yanmar generator set (6~60kVA) is fitted with famous brushless excitation alternators of Marathon and Stamford, and control panels of DEEPSEA UK.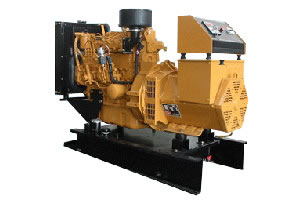 With automatic protective device, Yanmar generator set can automatically control and regulate the water temperature, oil temperature, oil pressure, and speed. It has many advantages such as automatic speed regulation, automatic voltage regulation, good dynamic performance, stable fluctuation of voltage, high efficiency, high reliability, long service life, and more. These generator sets can be combined as a power station group with automatic start system in accordance with customer's requirements.

Yanmar has been producing diesel engines since 1933, and until now has already manufactured over 15 million diesel engines ranging from 4.5 to 5,000 horsepower. Today over one-million Yanmar diesel engines are powering North America's leading automobiles and stationary off-highway equipment. From construction equipment, generator sets, pressure washers, and turf machinery to military applications and agricultural equipment, Yanmar is proud to be the leading diesel power supplier providing the needed energy to America and the rest of the world.
A leading Yanmar generator set supplier in China, Guangdong Rise Power Equipment Inc. specializes in suppying a variety of generator sets, such as Cummins generator set, Perkins generator set, VOLVO generator set, high voltage generator set, medium frequency generator set, and more. Meanwhile, we also provide marine generatos, marine engines, and related accsssories, to name a few. With high qulaity, reliable performance, safety and durability, our products are highly sought after by customers both at home and abroad. We at Rise Power warmly welcome global buyers to contact us and try our Yanmar generator set or other equipment. We would like to establish long term business relationship with more and more global customers.