Mitsubishi Generator Set (625~2000kVA)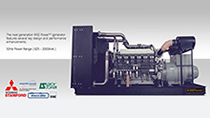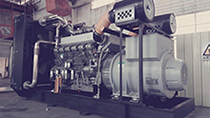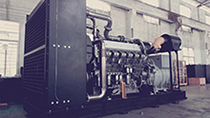 Description:
Powered by SME Mitsubishi diesel engine, the Mitsubishi generator set adopts control system from UK Deep Sea Electronics, which has a backlit LCD display, available for a clear display of the generator set's operation under any cases, besides, it also has a wide range of features covering multi-language option, remote monitoring, frequency, voltage, current, oil pressure, water temperature and oil level monitoring as well as various alarms and automatic shutdown protection functions.
The Mitsubishi generator set is designed with sound attenuated enclosure, paralleling system, ATS cabinet, GSM super remote monitoring and GPS positioning, making it an intelligent generator set.
The generator set is equipped with whole set of maintenance-free battery starting system, which only requires you to pour motor oil and coolant into the machine and switch on the positive and negative power supply to start the machine, greatly improving convenience in machine using. Being designed with SME Mitsubishi diesel engine and spare parts, the generator set eliminates the customer's worries and ensures them with reliable components supply and maintenance services. No matter what fields you are in, Mitsubishi generator set will always be your reliable power supplier and engine for success.
SME is a joint venture company co-established by Shanghai Diesel Engine Co.,Ltd and Mitsubishi Heavy Industrial Group, it mainly specializes in producing various models of S6R2,S12R,S16R series engines that have been approved by Mitsubishi Heavy Industries, covering S6R2,S12R,S16R engines and other engines. These engines are mainly applied for land-use generator set, with the power ranging from 500kw-2000kw. The 8 models of S6R2/S12R/S16R engines here at SME are all consistent with Mitsubishi Heavy Industries in technical, production and quality of the products.
Being designed with fuel system and integrated design of engine body of Mitsubishi Heavy Industries, SME engine has excellent performance and is available in high power, high stability, low-emission power output, making it being reliable all the time.
Specification of Mitsubishi generator set:
Model
Prime Power (kW)
Standby Power (kW)
Engine
Engine Rated Power(kW)
Cylinders
Displacement (L)
Alternator
Rated Current(A)
Dimensions
(mm)
Weight(kg)
D500MG
500
550
S6R2-PTA-C
575
6L
29.96
MP-500-4
902
3440×1410
×1880
4880
D540MG
540
594
S6R2-PTA-C
575
6L
29.96
MX-560-4
974
3800×1410
×1880
5280
D600MG
600
660
S6R2-PTAA-C
645
6L
29.96
MX-600-4
1083
4050×1660
×1900
6040
D800MG
800
880
S12H-PTA
878
12L
49.03
MX-850-4
1443
4530×1660
×2070
8150
D1000MG
1000
1100
S12R-PTA-C
1080
12L
49.03
MX-1030-4
1804
4690×2100
×2600
10800
D1100MG
1100
1210
S12R-PTA2-C
1165
12L
49.03
MX-1240-4
1985
4580×1850
×2575
11000
D1200MG
1200
1320
S12R-PTAA2-C
1277
12L
49.03
MX-1240-4
2165
5155*2195
*2950
11300
D1360MG
1360
1496
S16R-PTA-C
1450
16L
65.37
MX-1360-4
2454
5400×1850
×2595
13000
D1500MG
1500
1650
S16R-PTA2-C
1600
16L
65.37
MX-1540-4
2706
5380×2560
×2930
15500
D1600MG
1600
1760
S16R-PTAA2-C
1684
16L
65.37
MX-1600-4
2887
5870×2395
×3150
17500