SC(CAT) Generator Set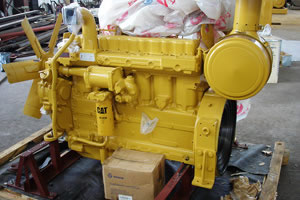 Powered by SC (CAT) series diesel engine, the SC (CAT) generator set (63~300kVA) is equipped with well known brushless excitation alternators of Marathon and Stamford, and DEEPSEA control panels of UK.
With automatic protective device, SC (CAT) generator set can automatically control and regulate the water temperature, oil temperature, oil pressure, and speed. It has many advantages such as automatic speed regulation, automatic voltage regulation, good dynamic performance, stable fluctuation of voltage, high efficiency, high reliability, long service life, and more. These generator sets can be combined as a power station group with automatic start system in accordance with customer's requirements.

The SC11 (CAT) engine is manufactured based on the US Caterpillar 3300 series diesel engines. This range of diesel engines not only feature high reliability, long service life, easy maintenance like Caterpillar 3300, but also possess the advantages of energy-saving, low-noise, and low emission. Advanced technologies such as supercharge, intermediate cooling are adopted to greatly reduce the noise of the diesel engine. Moreover, with many attachments integrated on one engine, the diesel engine is of compact structure, beautiful design, easy assembly and convenient maintenance. Hence, SC (CAT) engines are well received on both domestic and overseas markets.
SC11 (CAT) Generator Set 50/60Hz 230V/400V
Model
Power (kW / kVA)
Engine Model
Alternator Model
Dimension
Weight
Prime
Standby
Open Type
Open Type
RSM50
50/63
55/69
SC5D108D
MP-50-4
2416×1035×1840
1750
RSM75
75/94
82/103
SC5D108D
MP-75-4
2871×1100×1897
2500
RSM80
80/100
88/110
SC5D122D
MP-80-4
2871×1100×1897
2500
RSM90
90/113
99/124
SC5D145D
MP-90-4
2871×1100×1897
2760
RSM120
120/150
132/165
SC8D200D
MP-120-4
2979×1220×2000
2760
RSM150
150/188
165/206
SC8D220D
MP-160-4
2979×1220×2000
3100
RSM160
160/200
176/220
SC9D245D
MP-160-4
3140×1400×2150
3150
RSM190
190/238
209/261
SC9D280D
MP-200-4
3450×1420×2150
3900
RSM200
200/250
220/275
SC11C300D
MP-200-4
3450×1420×2200
3900
RSM220
220/275
242/303
SC11C350D
MP-220-4
3450×1420×2200
4000
As a professional SC (CAT) generator set supplier in China, RISE Power Equipment Inc. has gained much experience in supplying series of generator sets, including gas powered generator set, Deutz generator set, Yanmar generator set, and Lister-Petter generator set, to name a few. At the same time, we also provide marine generators, marine engines, related accessories, and more. Our company has received ISO9001:2000 certification due to our operation in strict accordance with international standards. Ever since our company was established, we have committed to supplying top quality equipment. Hence, with reliable quality, stable performance and long service life, our products are very popular both at home and in many overseas countries. If you are interested in our SC (CAT) generator set or other equipment, please feel free to contact us. We at RISE Power are ready to serve you.