Lister-Petter Generator Set
For the Lister-Petter generator set (5~250kVA) powered by Lister Petter diesel engine, we adopt famous brushless excitation alternators of Marathon and Stamford, and DEEPSEA control panels of UK.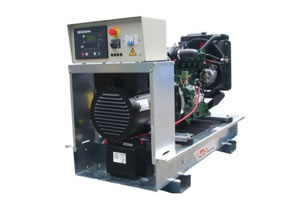 With automatic protective device, Lister-Petter generator set can automatically control and regulate the water temperature, oil temperature, oil pressure, and speed. It has many advantages such as automatic speed regulation, automatic voltage regulation, good dynamic performance, stable fluctuation of voltage, high efficiency, high reliability, long service life, and more. These generator sets can be combined as a power station group with automatic start system in accordance with customer's requirements.

Lister Petter is based in Gloucestershire in England and has operations in the USA, France, India and China. This gives the company global spread and ensures that customers are never too far from its expertise whenever they need diesel or gas engine technology. Lister Petter produces a range of complete generator sets, units equipped for welding and in-house pumping sets, as well as supplying engines to other equipment manufacturers. With a long and celebrated history in industrial engines, Lister Petter manufactures advanced diesel and gas-powered engines for a wide range of applications, which are widely exported, especially for use in irrigation projects.
Guangdong RISE Power Equipment Inc. specializes in supplying the Lister-Petter generator set in China. Over years of dedication to the sale of generator sets, we now provide a full range of our generator sets, including Cummins generator set, Perkins generator set, MAN generator set, John Deere generator set, medium frequency generator set, and more. Created by sophisticated technology and advanced equipment, our equipment features high quality, reliable performance, safety and durability. Hence, our products, Lister-Petter generator set, for example, find a good sale in domestic and overseas markets. Moreover, located in Guangzhou, our company has easy access to complete infrastructure, developed trade and convenient air, sea and land transportation, which help to lower our transportation cost and save shipping charges for our customers as well. If you are in need of Lister-Petter generator set or other equipment, please feel free to contact us. We at Rise Power are happy to assist you.