XinChai Generator Set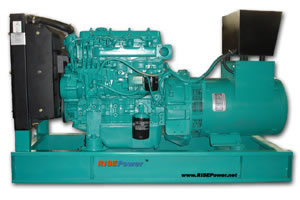 XinChai generator set, powered by XinChai series diesel engine, is equipped with famous brushless excitation alternators of Marathon and Stamford, and intelligent control panels.
With automatic protective device, XinChai generator set can automatically control and regulate the water temperature, oil temperature, oil pressure, and speed. It has many advantages such as automatic speed regulation, automatic voltage regulation, good dynamic performance, stable fluctuation of voltage, high efficiency, high reliability, long service life, and more. These generator sets can be combined as a power station group with automatic start system in accordance with customer's requirements.

XinChai ranks among the top 500 machine enterprises in China. It has a range of more than 6 series of engines such as N85, 90, 92, 95,98, 105(108) engines with 30 basic models and over 200 versions which are mainly used for light trucks, internal-combustion forklifts, tractors, agricultural vehicles, small generators and automobile air conditioners. With the annual production capacity of 150,000 diesel engines, XinChai has owned over 90% market share in the domestic market for 1-4 tons internal-combustion forklifts.
Specializing in supplying XinChai generator set in China, RISE Power Equipment Inc. has received ISO9001:2000 certification due to its operation in strcit compliance with international standards. In addition to the XinChai generator set, we also provide series of other generator sets, such as VOLVO generator set, DOOSAN DAEWOO generator set, MAN generator set, and more. With top quality and reliable performance, our equipment is popular with customers all ove the world. Located in Guangzhou, our company has access to the complete infrastructure, developed trade and convenient air, sea and land transportation, which contribute to lowering our transporation cost and saving your shipping charges as well. For more information about our products or service, please feel free to contact us. Staffs at RISE Power look forward to working with you.