MAN Generator Set
The MAN generator set makes use of MAN series diesel engine, and is equipped with famous brushless excitation alternators of Marathon and Stamford, etc., and control panels of DeepSea UK.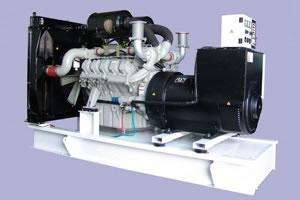 With automatic protective device, the MAN generator set can automatically control and regulate the water temperature, oil temperature, oil pressure, and speed. It has many advantages such as automatic speed regulation, automatic voltage regulation, good dynamic performance, stable fluctuation of voltage, high efficiency, high reliability, long service life, and more. These generator sets can be combined as a power station group with automatic start system according to the customer's requirements.

MAN was named with the first alphabet of the former company MzschiNenfabrik Augsburg-Nuremberg. MAN is a leading European enterprise involved in engine and vehicle manufacturing. It is a supplier of the production materials and service system in the world, and also provides diesel, commercial vehicles, industrial services, printing machinery and other mechanical equipment. In the most fields it is involved in, MAN Group takes the leading position in terms of both technology and market share. With innovative spirit and high quality products, MAN Group was also first honored to have invented the diesel engine in the world.
Guangdong RISE Power Equipment Inc. is an experienced MAN generator set manufacturer and supplier in China. Ever since the establishment of our company, we have gained much experience in supplying a range of generator sets, including Cummins generator sets, VOLVO generator sets, XinChai generator sets, high voltage generator sets, medium frequency generator sets, and more. Meanwhile, we also provide marine generators, marine engines, diesel engines, and alternators, to name a few. In addition to top quality MAN generator set, we also offer attentive service for our customers. That is why our equipment is so popular with customers throughout the world. If you are in need of high quality competitively priced MAN generator set or other equipment, please feel free to contact us. We at Rise Power are confident that you will be satisfied with your purchase.