Weifang Generator Set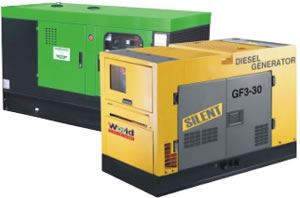 Description of Weifang Gensets/ Generator Set
1. Generator set is powered by Weifang Engine;
2. The gensets adopt renowned brand engine (Deutz and Cummins etc.), advanced generator and completely sealed automatic voltage regulator (AVR);
3. It is convenient to operate;
4. The generator set is excellent in performance and smooth in running;
5. Technical parameter of low-noise diesel generator sets: rated voltage 400(380)V (depend on client's choice); rated speed :1500r/min or1800r/min; rated frequency: 50Hz/60Hz; rated power factor: 0.8(lagging);


Major Parts of Diesel Generator Sets: diesel engine, alternator, control panel, base frame, etc.
Starting Method of Weifang Gensets/ Generator Sets
1. Automatic starting wholly: when power supply has been stopped, the generator sets can automatically start three times in 3-28 seconds (adjustable);
2. 12 seconds are needed for it to accept load when electric supply is resumed, and the generator will continue work in 23-230 seconds, then shut down automatically.

Control System for the Gensets
1. Apparatus: voltage meter, frequency meter, amperage meter, voltmeter of battery, meter of water temp., oil meter.
2. Control section: starting handler, key type switch, inductive type self-protection switch, and indicator.
3. Voltage: 400/230v
4. Rotation speed: 1500/1800 rpm
5. Cooling method: closed circulation cooling
6. Frequency: 50/60Hz
7. Power factor: 0.8(lagging)
8. Triple harmonic STC series or brushless TFW2 series or compound excitation TFX series of alternator.

Main Specifications of Weifang Generator Set
50/60Hz, 230V/400V, 13kVA - 188kVA, Soundproof Canopy
Generator Set Model
Engine Model
Alternator Model
Frequency (Hz)
Prime Power
Standby Power
Open Type Size (mm)
Quantity for 20' Container
Quantity for 40' Container
kW
kVA
kW
kVA
RWM10
1100S
TFX-10
50
10
13
11
14
1320x650x860
24
48
RWM12
1110s
TFX-120
50
12
15
13
17
1320x650x860
24
48
RWM15
1125S
TFX-15
50
15
20
17
21
1780x750x1000
14
28
RWM20
1125
TFX-20
50
20
25
22
28
1780x750x1000
14
28
RWM24
4100D
TFX-24
50
24
30
26
33
1780x750x1000
14
28
RWM30
4100D
TFX-30
50
30
38
33
41
1780x750x1000
14
28
RWM40
4100ZD
TFX-40
50
40
50
44
55
1780x750x1000
14
28
RWM50
4105ZD
TFX-50
50
50
63
55
69
1780x750x1000
14
28
RWM75
6105ZD
TFX-75
50
75
94
83
103
2600x800x1500
4
8
RWM100
6105AZLD
TFX-100
50
100
125
110
138
2600x800x1500
4
8
RWM120
6105AZLD
TFX-120
50
120
150
132
165
2600x800x1500
4
8
RWM150
G128ZD
TFX-150
50
150
188
165
206
2600x800x1500
4
8

[ Details of Weifang Gensets ]