DOOSAN DAEWOO Generator Set
Powered by Korea Doosan Daewoo diesel engine, the Doosan Daewoo generator set (90~660kVA) makes use of well known brushless excitation alternators of Marathon and Stamford, and control panels of DEEPSEA UK.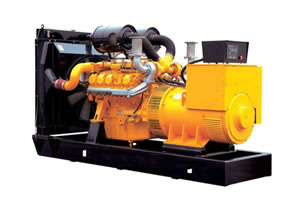 With automatic protective device, Doosan Daewoo generator set can automatically control and regulate the water temperature, oil temperature, oil pressure, and speed. It has many advantages such as automatic speed regulation, automatic voltage regulation, good dynamic performance, stable fluctuation of voltage, high efficiency, high reliability, long service life, and more. These generator sets can be combined as a power station group with automatic start system in accordance with customer's requirements.

Doosan Daewoo diesel engines have been widely used in national defense, aviation, vehicles, watercrafts, engineering machinery, and generator sets. The engines of Doosan Daewoo are recognized and well received by the world for its compact structure, light weight, high capability of resisting sudden increase of load, low noise, and reliable performance. Doosan group aims to be an outstanding enterprise and become one of the top five heavy industry manufacturers.
As one of the leading Doosan Daewoo generator set manufacturers and suppliers in China, Guangdong Rise Power Inc. has gained much experience in supplying a complete range of generator sets, including Perkins generator set, MAN generator set, MTU generator set, and high voltage generator set, to name a few. At the same time, we also provide marine generators, marine engines, related accessories, and more. In addition to high grade equipment, we also offer top ranking service for our customers. With top quality and reliable performance, our products are well received in both domestic and overseas markets. If you are in need of high quality competitively priced Doosan Daewoo generator set or other equipment, please feel free to contact us. We at Rise Power are happy to assist you.