John Deere Generator Set
Powered by John Deere diesel engine, the John Deere generator set (30~470kVA) is fitted with well known brushless excitation alternators of Marathon and Stamford, and DEEPSEA control panels of UK.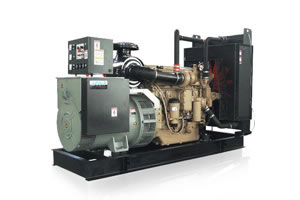 With automatic protective device, John Deere generator set can automatically control and regulate the water temperature, oil temperature, oil pressure, and speed. It has many advantages such as automatic speed regulation, automatic voltage regulation, good dynamic performance, stable fluctuation of voltage, high efficiency, high reliability, long service life, and more. These generator sets can be combined as a power station group with automatic start system in accordance with customer's requirements.

Deere & Company, founded in 1837 (collectively called John Deere), has grown from a one-man blacksmith shop into a corporation that today does business around the world and employs approximately 47,000 people. It is the world's leading manufacturer of construction equipment, and a major supplier of equipment used in lawn, grounds and turf care. John Deere also manufactures and markets diesel engines used in off-road equipment. The company continues to be guided, as it has been since its beginning, by the core values exhibited by its founder: integrity, quality, commitment and innovation.
John Deere Generator Set 50Hz 230V/ 400V
Model
Power (kw/kVA)
Engine Model
Alternator Model
Dimension
Weight
Prime
Standby
Open Type
Open Type
RJL24
24/30
26/33
3029DF128
LSA42.2L9
1440×600×1120
700
RJL32
32/40
35.2/44
3029TF158
LSA43.2S15
1550×680×1260
750
RJL56
56/70
61.6/77
4045DF158
LSA43.2L65
2100×850×1380
1080
RJL64
64/80
70/88
4045TF258
LSA43.2L8
2100×850×1380
1080
RJL84
84/105
92.4/115.5
6068TF158
LSA44.2VS45
2250×850×1380
1260
RJL97
97/121
106/133
6068TF258
LSA44.2S7
2330×850×1380
1260
RJL120
120/150
132/165
6068HF158
LSA44.2L12
2330×850×1380
1390
RJL144
144/180
158.4/198
6068HF258
LSA46.2M3
2550×950×1480
1630
RJL169
169/212
186.6/233
6081HF475
LSA46.2L6
2670×1295×1680
1700
RJL210
210/263
231/289
6081HF001B
LSA46.2L9
2800×1295×1680
1800
RJL248
248/310
273/341
6125HF070A
LSA46.2VL12
2950×1295×1850
2290
RJL288
288/360
317/396
6125HF070B
LSA47.2VS2
3000×1295×1850
2580
RJL312
312/390
343/429
6125HF070C
LSA47.2S4
3000×1295×1850
2580
RJL376
376/470
414/517
6135HF475
LSA47.2M7
3000×1295×1850
2580
A leading John Deere generator set supplier in China, Guangdong Rise Power Equipment Inc. is involved for years in supplying a variety of generator sets, including Caterpillar Olympian generator set, Deutz generator set, Lister-Petter generator set, gas powered generator set, and more. Meanwhile, we also provide marine generators, marine engines, alternators, and diesel engines, to name a few. In addition to high grade products, we also provide top class service. Moreover, as our company is located in Guangzhou, we have easy access to convenient air, sea and land transportation, which can effectively save your shipping charges. If you are in need of high qulaity low priced John Deere generator set or other equipment, please feel free to contact us. We at Rise Powe are confident that you will be satisfied with your purchase.