Caterpillar Olympian Generator Set
The Caterpillar Olympian generator set makes use of Caterpillar series diesel engine, and is equipped with famous brushless excitation alternators of Marathon and Stamford, etc., and control panels of DeepSea UK.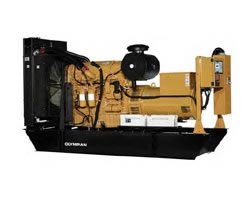 With automatic protective device, diesel generator set can automatically control and regulate the water temperature, oil temperature, oil pressure, and speed. It has many advantages such as automatic speed regulation, automatic voltage regulation, good dynamic performance, stable fluctuation of voltage, high efficiency, high reliability, long service life, and more. These generator sets can be combined as a power station group with automatic start system according to the customer's requirements.
Founded in 1863, Caterpillar has its headquarter based in Illinois. Caterpillar diesel engines are designed and manufactured by applying new technology to meet various working conditions and environmental requirements. The Caterpillar Olympian generator set (8~2000kVA) boasts high reliability and great durability, and is well received on the market.

Specializing in supplying the Caterpillar Olympian generator set in China, Guangdong Rise Power Equipment Inc. provides a range of generator sets, including MAN generator sets, MTU generator sets, VOLVO generator sets, marine generators, Stamford alternators, diesel engines, and more. Ever since our company was established, we have committed to supplying top quality equipment. Due to reliable quality and excellent performance, our products are highly praised and well received both at home and abroad. If you are interested in our Caterpillar Olympian generator sets, or other equipment, please feel free to contact us. Staffs at Rise Power look forward to working with you.