Detroit Generator Set (USA)
Description of Detroit Generator Set
This genset adopts the series 60 heavy-duty diesel engine, which maintains fuel economy with an outstanding power-to-weight ratio and unsurpassed dependability at current emission levels.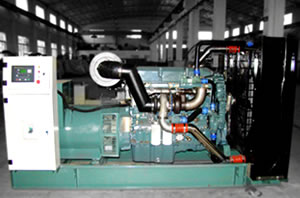 Features of Detroit Generator Set
Excellent Performance and Fuel Economy
New advanced fuel system of this diesel generator maintains fuel economy and performance at reduced emissions;
DDEC VI electronics monitor and control the engine and aftertreatment system for peak efficiency;
Electronic VGT(Variable Geometry Turbo) offers quicker response and enhanced performance
Low Emissions
Optimized Exhaust Gas Recirculation(EGR)system reduces nitrogen oxide(NOX)emissions by over 50%
Aftertreatment system comprising an Oxidation Catalyst and Diesel Particulate Filter reduces particulate matter emissions by 90%
Maintenance-free crankcase breather separator


Genset Specifications:
1) Engine: Detroit Diesel S60
2) Alternator: Leroy Somer or Marathon
3) Power: 282 ~ 410kW
4) Frequency: 50 / 60Hz
5) Voltage: 400 / 230 (for 50Hz)
6) Protection: IP21 (IP23 for option)
7) Insulation: H Features:
I. Easy to Maintain:
a) A type water cooling system
b) Exhaust air turbocharged
c) Wet -type replaceable cylinder liners
d) Dry-type exhaust manifold
e) Special treated work surface
f) Top liner cooling
g) Overhead camshaft
h) Big main and rod bearings
II. Optimal Operation Reliability:
a) Rated speed: 1500r/min
b) Pistons with cast-in groove insert
c) Piston cooling via oil spray nozzles for fast cooling and reliable running of the engine
III. Environmental Compatibility:
a) Direct injection combustion case
b) DDEC electronic control system (including digital electronic regulation function)
c) Automatic self-diagnosis and display, electronic unit injector
d) High quality reliability, low breakdown
e) Lowest fuel consumption in the same category
IV. Long Life-time:
The first overhaul is over 30000 hours after operation.

[ Details of Detroit Gensets (USA) ]