You are here : RISE Power Diesel Generator
China Diesel Generator, Power Generator, Cummins Generator Set
Cummins Generator Set
For the Cummins generator set (250~1500kVA), powered by the Cummins (Sino-USA) M/N/K TA series diesel engine, we adopt famous brushless excitation alternators of Marathon and Stamford, and DEEPSEA control panels of UK.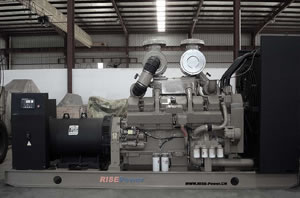 With automatic protective device, Cummins generator set can automatically control and regulate the water temperature, oil temperature, oil pressure, and speed. It has many advantages such as automatic speed regulation, automatic voltage regulation, good dynamic performance, stable fluctuation of voltage, high efficiency, high reliability, long service life, and more. These generator sets can be combined as a power station group with automatic start system in accordance with customer's requirements.

Related products
Cummins Generator Set (20~2450kVA) Diesel Powered Generating Sets ( 50/60Hz, 380~480V, 3-Phase, 0.8PF )
Generating Sets Powered by Cummins Engine
This RISE Power Cummins series commercial generator set is a fully integrated power generation system, providing optimum performance, reliability and versatility for stationary standby and prime applications.