SDEC Generator Set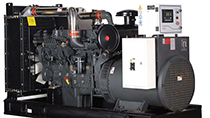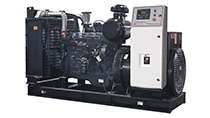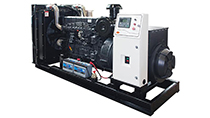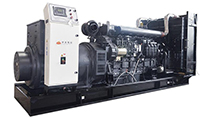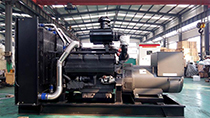 Description:
SDEC generator set is a fully integrated power system powered by SDEC diesel engine, the engine, after being improved under the basis of SDEC diesel engine, has been greatly improved in quality, reliability, economical efficiency, vibration noise and shape. Most spare parts of this engine can be applied for the original models, which is the perfect engine for generator set made by following SATC MOTOR manufacturing standards
SDEC generator set adopts Deep Sea control system, which has a backlit LCD display to display clearly operation of generator set under any cases, it is also available in various features covering multi-language option, remote monitoring, frequency, voltage, current, oil pressure, water temperature and oil level monitoring as well as various alarms and automatic shutdown protection functions. The intelligent SDEC generator set has attenuated enclosure, paralleling system, ATS cabinet, and is available in GSM super remote monitoring and GPS positioning.
SDEC generator set has a whole set of maintenance-free battery starting system, in which the generator set can be started by injecting motor oil and coolant into the machine and switching on the positive and negative power supply, making it more convenient to use the machine. Due to 600,000 market supply and good after-sales services, the users can be free from worries of components supply and maintenance services.
Shanghai Diesel Engine Co.,Ltd, formally called as Shanghai Diesel Engine Factory, is established in 1947, now becomes a part of SAIC Motor, and it is a large state-owned high-tech enterprise specializing in developing and manufacturing of engine, engine parts and generator set. The company has a state-level technical center, a postdoctoral working station, world-level automatic production lines and a quality assurance system that meets passage cars standards.
In its nearly 70 years' development, SDEC has exported its products all over the world. SDEC now has seven series of high quality diesel and natural gas engines, which cover R, H, D, C, E, G and W series. The power of these engine series are available in 50-1600kw, mainly applied for trucks, buses, construction machinery, generator sets, marine solutions and agricultural equipment. SDEC keeps on making service accessible to customers and has built a country-wide sales and service support system, which includes 19 central offices, 7 regional parts distribution centers, more than 300 core service stations and over 1000 service dealers.

Specification of SDEC generator set
Model
Prime Power
Standby Power
Engine
Cylinders
Displacement (L)
Fuel Consumption(L/h)
Oil Consumption(g/kWh)
Oil Capacity(L)
Coolant Capacity (L)
Dimension
kVA
kW
kVA
kW
L*W*H(mm)
Weight(kg)
RSM55
68
55
75
60
SC4H95D2
4L
4.3
< 14.8
≦0.3
15
6.8
1910*893*1170
940
RSM68
85
68
94
75
SC4H115D2
4L
4.3
< 18.7
≦0.3
15
6.8
1950*893*1170
970
RSM80
100
80
110
88
SC4H160D2
4L
4.3
< 20.7
≦0.3
15
6.8
2060*933*1185
1020
RSM95
118
95
130
104
SC4H160D2
4L
4.3
< 25.2
≦0.3
15
6.8
2060*933*1185
1050
RSM105
131
105
144
115
SC4H180D2
4L
4.3
< 28.8
≦0.3
15
6.8
2100*933*1185
1080
RSM128
160
128
176
141
SC8D220D2
6L
8.27
< 35.0
≦0.3
22
8.2
2415*980*1500
1470
RSM140
175
140
193
154
SC7H230D2
6L
6.5
< 36.9
≦0.3
20
9.6
2400*940*1376
1250
RSM150
188
150
206
165
SC7H250D2
6L
6.5
< 40.3
≦0.3
20
9.6
2446*940*1376
1330
RSM160
200
160
220
176
SC8D280D2
6L
8.27
< 44.4
≦0.3
22
8.2
2515*980*1500
1520
RSM180
225
180
248
198
SC9D310D2
6L
8.82
< 48.2
≦0.3
22
8.2
2515*980*1500
1540
RSM200
250
200
275
220
SC9D340D2
6L
8.82
< 52.5
≦0.3
22
12
2706*1040*1486
1750
RSM210
262
210
288
231
SC13G355D2
6L
12.88
< 54.9
≦0.4
33
25.5
3156*1230*1674
2750
RSM250
312
250
343
275
SC13G420D2
6L
12.88
< 67.2
≦0.4
33
25.5
3156*1230*1674
2850
RSM280
350
280
375
300
SC12E460D2
6L
11.8
< 73.6
≦0.4
37
25.5
3175*1100*1595
2900
RSM300
375
300
413
330
SC15G500D2
6L
14.16
< 81.3
≦0.4
33
25.5
3156*1230*1674
2970
RSM360
450
360
500
400
SC25G610D2
12L
25.8
< 97.2
≦0.4
65
151
3533*1400*1992
4100
RSM410
512
410
562
450
SC25G690D2
12L
25.8
< 110.1
≦0.4
65
151
3548*1400*1992
4300
RSM450
563
450
625
500
SC27G755D2
12L
25.8
< 121.2
≦0.4
65
151
3548*1400*1992
4410
RSM550
688
550
750
600
SC27G830D2
12L
25.8
< 144.4
≦0.4
65
151
3548*1400*1992
4450
RSM600
750
600
825
660
SC33W990D2
6L
32.8
< 158.4
≦0.6
75
56
4362*1570*2135
7070
RSM700
875
700
962
770
SC33W1150D2
6L
32.8
< 195.4
≦0.6
75
56
4433*1775*2378
8000