You are here : RISE Power Diesel Generator
China Diesel Generator, Power Generator, Vehicle Mounted Generator Set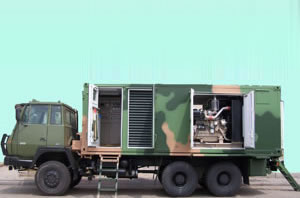 Vehicle Mounted Generator Set
Features of Vehicle Mounted Generator Set
1. Power range: 20-1000KW;
2. In order to meet the special requirements of customers, it can assemble various gensets.
3. The canopy, processed by special waterproof, anti-dust, and anti-rust treatment, is fixed on the vehicle.
4. This genset can be driven to any place where the emergency power supply is needed.


Application of Vehicle Mounted Generator Set
It is used primarily for army, field operation, and etc.
Related products
Medium Frequency Generator Set The medium frequency generator set produced by our company is mainly used with power source of airfield, radar, and all kinds of communications. We provide medium frequency generators with 11 specifications and 12 types, including 30, 50, 75, 90, 120, 200KW, which have different output, double current output, for example. Additionally, we can also provide tailor-made medium...